| | | | |
| --- | --- | --- | --- |
| Mondays | 6.30pm | 7.30pm | Juniors |
| | 7.30pm | 8.30pm | Seniors |
| Thursdays | 6.30pm | 7.30pm | Juniors |
| | 7.30pm | 8.30pm | Seniors |
Jersey Wado Ryu train at Bel Royal school, St Lawrence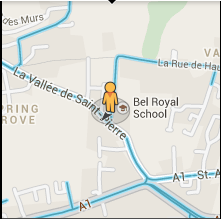 We train throughout the year, except public and bank holidays. We also have a 2 week break at Christmas.
During the summer months we train once a week on a Monday night when we consolidate training into a single 1 hour session for all students.
It is compulsory for student's to train in a white gi (karate suit) during all lessons. If a t-shirt is to be worn under the gi the t-shirt must be plain white.
Students should always bring hand and leg mits to lessons, as well as a gum shield for kumite (fighting).
We offer all of the above items at discounted prices, available to order.  They can also be purchased from many retailer's both on-line or in shops.